Description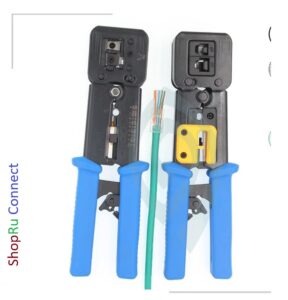 30 DAYS MONEY BACK GUARANTEE ensures your satisfaction. If not happy with the durability and the performance of crimping tool, return it for full refund of your purchase price. This reliable, effective, efficient all-in-one HD quality crimp tool cuts, strips, and crimps fast, reliable CCTV Security Media Data Communication modular-crimp connector installation.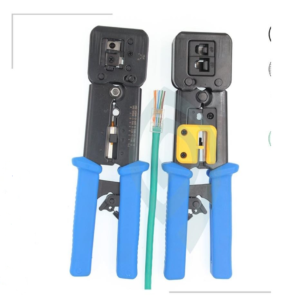 RJ45 crimping tool is Fast, reliable modular-crimp connection for data and voice-over applications. Create clean, flush trim on EZ pass through and legacy connectors RJ11 RJ12 and RJ45 extended conductors. precision ground crimping dies with zero flex frame, prevents torque loss during the crimping cycle, tool die head assembly provides 360 degrees of connector support during crimp. Ratcheting action ensures a perfect crimp every time. High quality professional crimping pliers tool.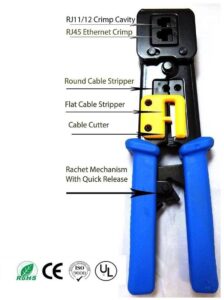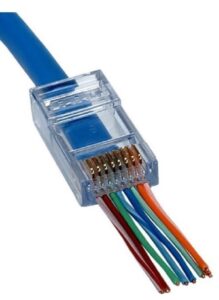 For EZ pass through and legacy connectors RJ11 RJ12, RJ45 CAT5e, shielded CAT5e, CAT6 modular plugs connectors, as well as, all standard modular plugs except amp. This pass through and legacy connectors crimper's surface to surface contact drivers delivers full and uniform crimp force. Built-in cutter and stripper for flat and round cable also guide for proper wire sequence, and high quality professional crimping pliers tool for easy operation.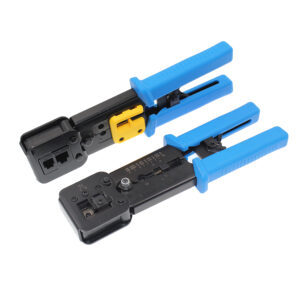 RJ45 crimp tools are versatile electronics tool lets you cut, strip and crimp Ethernet and compatible telephone cable. Also compatible with all Pass Through RJ45 CAT6 connectors (including shielded), RJ45 CAT5E/6 connectors. These crimp tools are very strong and sturdy, special hardened, with long lifetime multi-function crimp stripper tool/ crimping /cutting/ stripping tool/ wire stripper pliers for Easy Pass Through RJ-45, RJ- 11 RJ-12 connectors.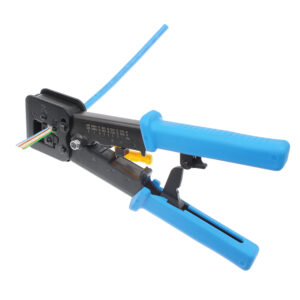 These RJ 45 crimpers / crimp tool's blade guard on cutting and stripping knives reduces risk of injury and helps maintain razor sharpness. Textured handle grips reduce hand fatigue and prevent slipping during cutting, stripping and crimping. These Crimp Tools are designed for the professional installer providing a ratcheted, high leverage, ultra stable platform for consistent, repeatable terminations.It's ratcheting action ensures perfect crimp every time.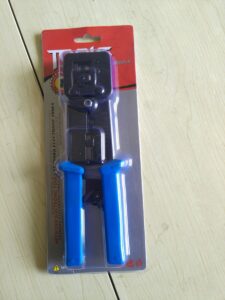 These RJ45 HD Crimp Tool is designed for the professional installer providing a ratcheted, high leverage, ultra stable platform for consistent, repeatable terminations. Reliable, effective, efficient all-in-one HD quality crimp tool cuts, strips, and crimps fast, reliable modular-crimp connector installation. Heavy duty tool is the perfect solution when working with high performance, larger OD cable that are tougher to terminate due to larger wire gauges, thicker, harder insulation on the conductors and pair separating splines. You will overcome these connectivity obstacles, and you can be assured that every termination will meet FCC specifications. These Professional Heavy Duty Crimp Tool, rj Ethernet crimp cutter for EZ Pass Through RJ11, RJ12 and RJ45 HD with wire cutter, cable stripper, and cable stripping blades – Crimp Tool deliver a clean, flush trim on the extended conductors for all Connectors, and designed for large dimensional size cables. These crimping tools are for EZ Pass Through RJ45 CAT5e connectors, RJ45 CAT6 connectors, RJ 45 Shielded CAT6 connectors, RJ 45 Shielded CAT5e connectors, also compatible with all other RJ45(8P8C), RJ12(6P4C) and RJ11(6P2C) modular plug connectors. Also suitable for wire installation into network and compatible telecommunication equipment. Built-in cutter, stripper, and surface to surface contact drivers delivers full and uniform crimp force. Also guide for proper wire sequence, and high quality professional crimping pliers tool for easy operation. Tool bit and spring made of excellent metal strip and spring steel. Are very strong and sturdy, special hardened, with long lifetime multi-function crimp stripper tool/crimping/cutting/stripping tool/wire stripper pliers for RJ11 RJ12, RJ45 CAT5e, shielded CAT5e, CAT6 modular plugs connectors, as well as, all standard modular plugs except amp